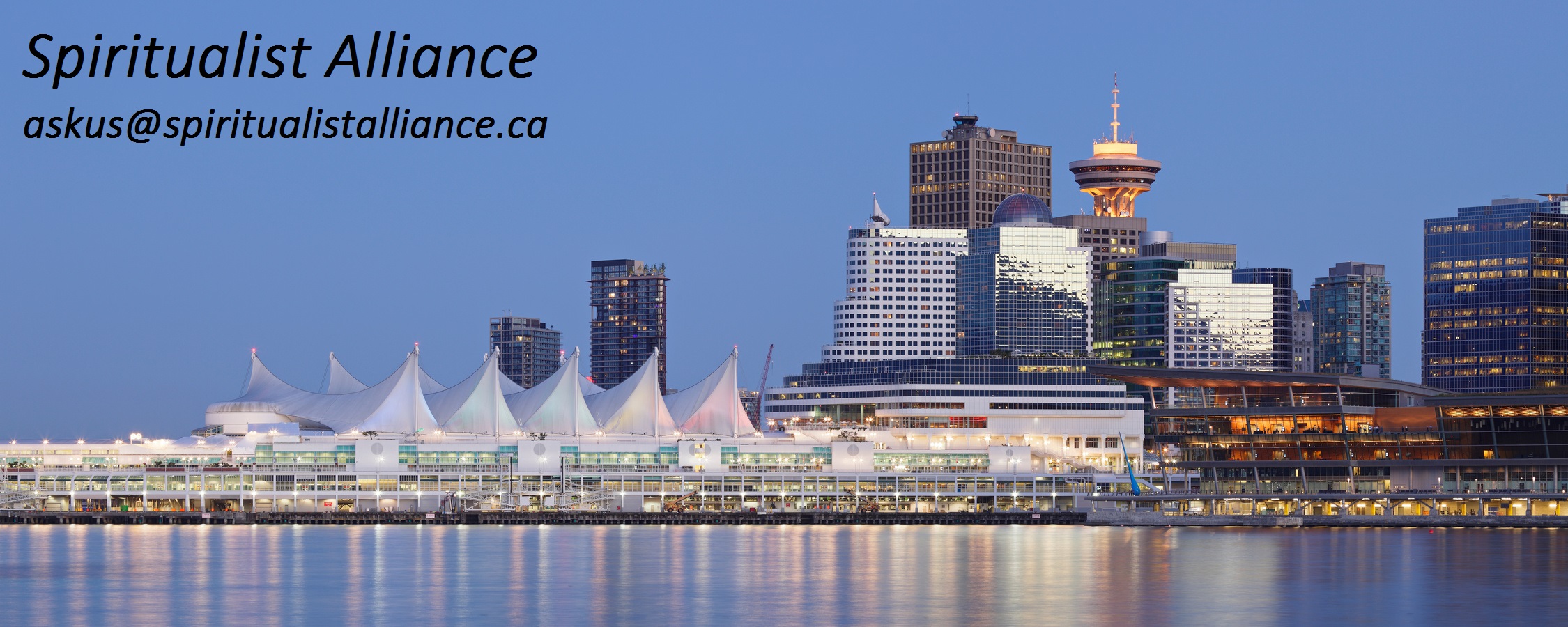 ***  TWO NEW UPCOMING SPECIAL EVENTS ***

 

March 31, 2023 from 7:00 pm – 8:30 pm an in-person evening of discussion & mediumship as we Celebrate the birth of Modern Spiritualism.

*** 

April 15, 2023 Spring mini-readings will be held over zoom from Noon – 4 pm.

     

Details, readers & costs for both events under our special events page.

*** 

 

 PLEASE JOIN US FOR OUR IN-PERSON SERVICES EVERY SUNDAY AT 1:00 PM 

 

OUR LOCATION: 3201 MOUNTAIN HWY, NORTH VANCOUVER, BC

(Disability accessible, on several bus routes, free underground parking)

 

Services will be held simultaneously on Zoom https://us06web.zoom.us/j/82040583770? pwd=N3RiNnFvQTRUTVMrRFhWV2lWNjREUT09

 

Check our events page for dates and details. 

*** 

WEDNESDAY EVENING PROGRAMS are held every Wednesday evening from 7:00 pm – 8:30 pm on Zoom. The first, second and fourth Wednesday of each month will be a development circle and the third Wednesday of the month a demonstration of mediumship.  Cost is $10 with payment via e-transfer, password spirit (all lowercase). Email melba@spiritualistalliance.ca to reserve space. Check the events page for program and facilitator details.

www.facebook.com/spiritualistalliance  

 

Our purpose at the Spiritualist Alliance is to encourage spiritual growth in a supportive environment through the philosophy of spiritualism. We welcome everyone, regardless of religious affiliation, as there is no doctrine or creed in spiritualism. We believe that our spiritual journey is not singular, and that we can work together in love and light to discover the truth and wisdom we are seeking.

 

Please join us for a Sunday service at 1:00 pm, or on Wednesday evenings from

7:00 – 8:30 pm when we hold demonstrations of mediumship, open circles, and special presentations and events. Visit our events page for services and programs.

We offer group healing after our Sunday services. Please find more information on our healing page.

We also regularly schedule workshops and courses on healing, developing mediumship, and periodically host mediums visiting from the UK. Please check the events page frequently for details on upcoming programs.

For more information we invite you to email us at askus@spiritualistalliance.ca or contact one of our ministers.